---
Saturday June 23rd 2018
The library will be open from 10 am to 3 pm.
You are welcome !
If possible, please send your registration at
or call 032 724 65 00
---
TO THE CLIENTS AND FRIENDS OF EDITIONS-SIMONIN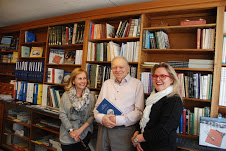 GREETINGS EVERYONE !
You are part of the club of clients and friends of Editions-Simonin, therefore you know that our speciality is watchmaking in the broad sense of the word, whether it is editing technical, historical or artistic books or selling new, old and even the very earliest treasures. At the moment we have over 4,000 works in English, French, German and even Italian and Spanish in stock.
You might even have enjoyed one of our specialised services :
• setting up or completing a professionnel or private watchmaking library,
• providing various antique horological objects,
• research in specific watchmaking domains,
• conferences and talks on a watchmaking theme.
What you might not yet know is that my daughter has joined the company.
Joelle Simonin brings with her her training as a watchmaker together with her experience in complicated watches and quality control. Twenty years ago she decided to give priority to her family and especially to her two sons. When one takes this task seriously, one is bound to develop a multitude of new capacities. Today, the sum of these many talents represents a significant potential for the future of Editions-Simonin. Joelle has returned to her first love, namely watchmaking, and is now adding the challenge of the world of books.
As for Sonya Renaud, she has been the administrative pillar of the company for the past 13 years. Her skills in more than one domain have always been invaluable to me and furthermore they are widely recognised by our clientele. It is thus to the satisfaction of all that she will continue to use her many talents and Joelle's arrival will surely be a further support.
In addition, this new organisation has recently been consolidated by the transformation of the firm into a limited company. This will guarantee the sustainability of its activities as well as its harmonious development.
One thing is sure, the human aspect will continue to be cultivated. Robots will definitely not replace human beings, even if the Internet is one of the company's main tools today.
Looking forward to seeing you soon and thanking you for your support.
Antoine Simonin
Founder and President
Editions-Simonin SA - Grand-Rue 28 - CH 2056 Dombresson - Tél. ++41 32 724 65 00
info@booksimonin.ch - www.booksimonin.ch
---
Antoine Simonin, watchmaker
since 50 years in the profession
Well-known expert in the Swiss Watch Industry

Teacher in watchmaking

Specialist in old and new horological books

Expert on old timekeepers

The publishing house established since 1984 has published over twenty titles.

Most books of the bookshop are in french, german and english and as well in italian and spanish
You are welcome to visit our library by appointement.
A cosy reading corner and more than 3500 titles are waiting for you.