---
Saturday October 5th, 2019
The library will be open from 10 am to 3 pm.
You are welcome !
If possible, please send your registration at
info@booksimonin.ch or call +41 32 724 65 00
---
PRESS RELEASE

EDITIONS-SIMONIN – A MUST IN HOROLOGICAL LITERATURE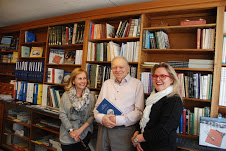 Editions-Simonin, based in the Swiss canton of Neuchâtel, have existed for nearly 35 years and occupy a magnificent 400-year old patrician house in a small village. At the turn of the 20th century, Dombresson used to be a centre for the production of balance staffs and pivots and it is now an important focal point for watchmaking literature. Editions-Simonin specialise in the field of watchmaking in the broadest sense, an area which was a deliberate choice.
The company focuses on technical, historical and artistic works and the sale of old and new books as well as old wtchmaking tools. Another aspect is personalised services, one of them being advising companies, museums or private collectors on establishing or completing their watchmaking library and research in specific fields.
Professionals as well as watch lovers know that this is where they can find almost everything that has ever been written on watchmaking from the 17th century to the present day - more than 4,000 works in English, French, German, and even Italian and Spanish. In addition, customers know that they will benefit from the broad knowledge of Antoine Simonin, who is a living encyclopaedia in this field.
Indeed, this passionate watchmaker, worldwide teacher, recognised as a reference and guardian of the tradition, expert, speaker and author has another speciality that he has practised all his life, namely passing on watchmaking secrets to all those who are interested in his passion, a talent that draws visitors from all over the world.
And now Editions-Simonin have received a new impulse with the arrival of Antoine Simonin's daughter Joelle, who has recently joined the company.
Joelle Simonin trained as a watchmaker, specialising in complicated watches as well as quality control. Twenty years ago she decided to give priority to her family and especially to her 2 sons. When one takes this task seriously, one is bound to develop a multitude of new capacities. Today, the sum of these many talents represents a significant potential for the future of Editions-Simonin. Joelle has returned to her first love, namely watchmaking, and is now adding the challenge of the world of books.
As for Sonya Renaud, she has been the administrative pillar of the company for the past 15 years. Her skills in more than one domain have always been invaluable to Antoine Simonin and furthermore they are widely recognised by the clientele. It is thus to the satisfaction of all that she will continue to use her many talents.
In addition, this new organisation has recently been consolidated by the transformation of the firm into a limited company. This will guarantee the sustainability of its activities as well as its harmonious development.
One thing is sure, the human aspect will continue to be cultivated. Robots will definitely not replace human beings, even if the Internet is one of the company's main tools today.
Visit Editions-Simonin, on line or in person, and you will definitely not be disappointed!
Editions-Simonin SA - Grand-Rue 28 - CH 2056 Dombresson - Tél. ++41 32 724 65 00
info@booksimonin.ch - www.booksimonin.ch